Documentation of Fluxfest New York 2010
This Fluxfest was interwoven among a variety of other events -- documented below under the green headings
April 15, 16, 17 & 18, 2010
Available photos, videos and links
Thursday, April 15th, 2010 -- 7pm
Stendhal Gallery
Opening: Greetings from Daddaland Exhibition
and Dada Machine Fluxus Performance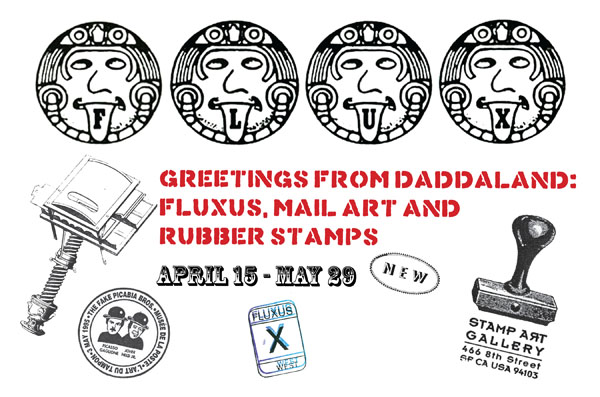 "Stendhal Gallery presents the exhibition, Greetings from Daddaland: Fluxus, Mail Art and Rubber Stamps, opening April 15 through May 25. The exhibition is drawn from the collections of John Held, Jr. of San Francisco and Picasso (Daddaland) Gaglione of Chicago, collectively known as The Fake Picabia Brothers.

The present Stendhal Gallery exhibition continues the exploration of avant-garde art Gaglione and Held began tracing together in the 1970s. Gaglione and Held presented a showcase for Fluxus, Mail Art and rubber stamp art at The Stamp Art Gallery in San Francisco during the mid-1990s. The current exhibition documents the gallery's activities through posters, exhibition catalogs, performance documentation, mail art, artist postage stamps, rubber stamp box sets made to commemorate the various exhibitions and excerpts from past Stamp art Gallery exhibitions." Continue reading here ...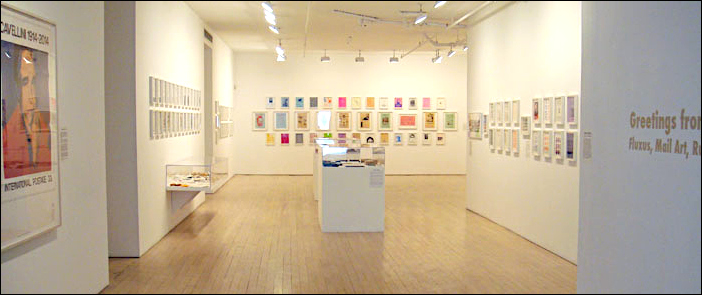 Click photo above to access 40 photographs of the exhibition
One Night Only:
Dada Machine Fluxus Performance at Stendhal Gallery
Thursday, April 15 at 8:32 pm
Performers: Picasso Gaglione, Alison Knowles, Darlene Domel, Keith Buchholz, Reed Altemus, Melissa McCarthy, Ruud Janssen, Christine Tarantino, Marlene Abel‐Wiseman, and Marc Block.
Poster by Keith A. Buchholz

Inside Fluxfest
Outside Fluxfest
All photos by Allan Revich -- click on photos to view larger versions
Friday, April 16th, 2010 -- 8pm
New York Correspondence School Dinner
Katz's Deli
No photos from Katz's Deli!
Saturday, April 17th, 2010
Lectures and Essays on Mail Art, Rubber Stamps, and Fluxus
by Darlene Dormel, John Held, Jr. and Ruud Janssen
Part of the exhibition Greetings from Daddaland at the Stendhal Gallery

"Fluxus with Tools is a performance lecture/event combining vintage Fluxus scores with insightful writings - both scholarly and humorous - by Hannah Higgins. All this activity is executed on a tabletop with sound augmentation by Knowles.

Rice and Beans for Charles Curtis, (2008) is a handmade score created by Alison Knowles for the renowned cellist Charles Curtis, who takes pleasure in encountering and performing challenging musical notations made for him by composers and artists. This score is composed of wet flax pulp, lentils, rice and a tangle of strings poured out flat, pressed, and dried." Read more here ...
Photos and videos by Allan Revich. Click on photos to view larger versions. Click on videos to play.
Saturday evening, April 17th, 2010
Please Mr. Postman -- !!! It's Sticker Dude's Birthday !!!
(Coffee house in Brooklyn?)
Sorry. We couldn't find any photos!
Sunday, April 18th, 2010
The Raid on Rutgers
A Post Neo Absurdists tour of Fluxus sites on the Campus of Rutgers University
with Geoff Hendricks
Photos from the tour!
All photos by Allan Revich -- click on photos to view larger versions
To learn more about the history of Fluxus and Happenings at Rutgers University click here.
If you know of any other video or audio files, photos, or accounts of this 2010 festival that should be included here, please let us know! Email us here.