CHICAGO FLUXFEST

Poster design Keith Buchholz


   

Organized by Keith A. Buchholz
and members of the contemporary Fluxus community.
Documentation for Chicago Fluxfest 2015
February 19, 20, 21 and 22
Photos, videos and links
xxx

Mail Art Exhibition/Viewing : "Kiss"
Curated by Keith A. Buchholz
School of the Art Institute of Chicago
Thursday, Feb. 19th, 4-8pm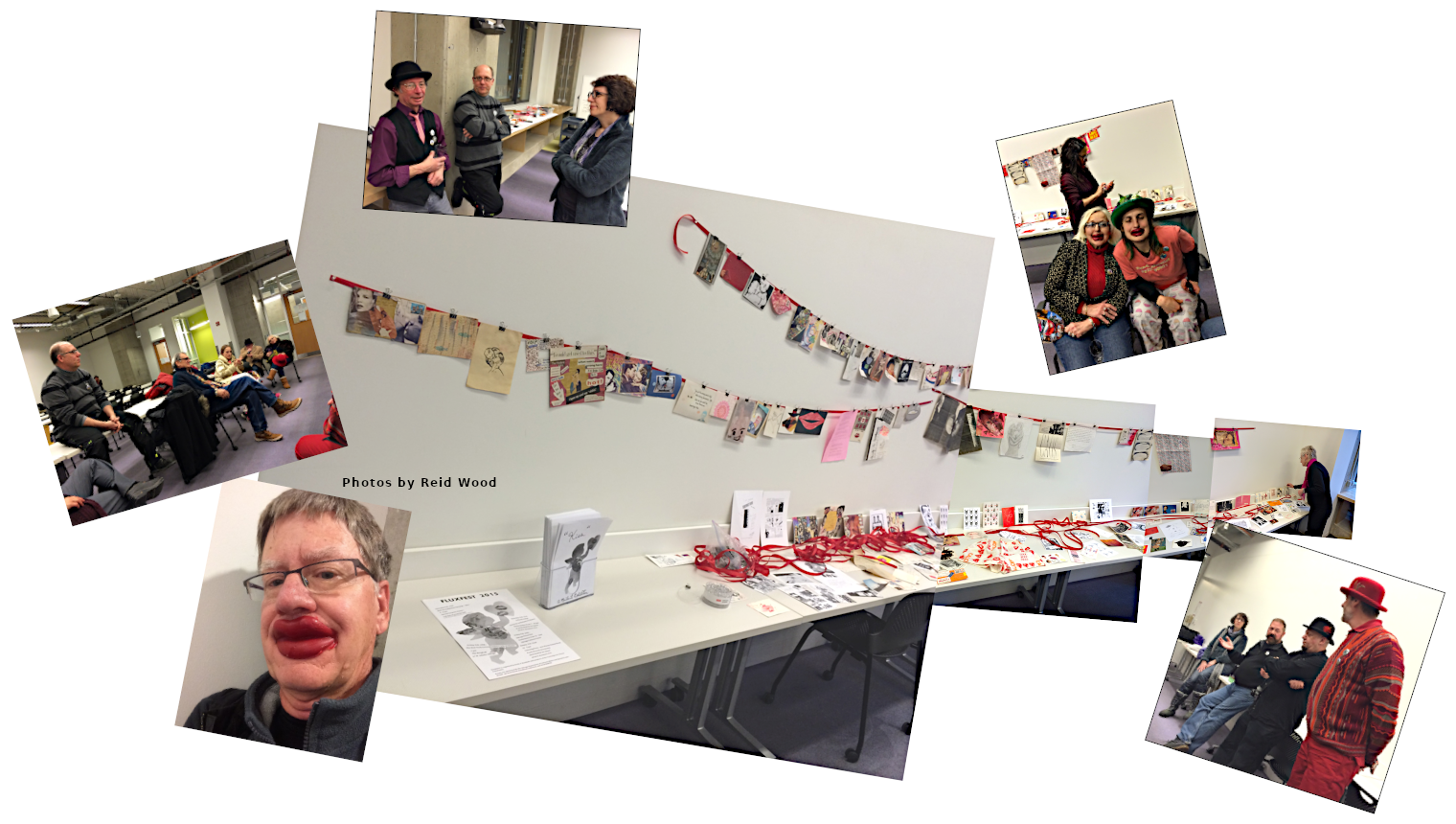 Photo by Reid Wood
World premiere
of Fluxus Artist Balloons

Video by Allen Bukoff
Chicago Fluxus Day
Chicago Cultural Center
Friday, February 20th, 12 - 5 pm
Keith A. Buchholz
"Fish Neck"
is the new "Fork Lint"
Your browser does not support the video tag.
Video by Bibiana Padilla Maltos

Keith Buchholz
performing a Ginny Lloyd score
"Screw Head"
Your browser does not support the video tag.
Photos and animation by Allen Bukoff
Camp Fluxus Roundup
at Chicago Fluxfest 2015

Installation and group activity led by Allen Bukoff. Campers were given t-shirts and hats and asked to lay down in a circle. They were then taken on an imaginary journey to Camp Fluxus where they participated in a variety of imaginary creative activities. Then they "returned" and posed for an end-of-summer group picture.
New York Correspondance School Dinner
The Berghoff
Friday, February 20th, 7pm
at the Berghoff

Photos by Bibiana Padilla Maltos - click to view larger blurrier images

A FluxEvening - Projects and scores by contemporary Fluxers
6018North
Saturday, February 21st, 7 - 10pm
Special project: Fluxus Photo Booth

During the course of the evening fluxfest participants were asked to pose for a Fluxus Photo Booth picture. These pictures were used to create a commemorative poster. Project by Allen Bukoff/Fluxus Midwest.
Click to view poster-size version of this graphic.
The many faces of Jokie X
Click photo for poster. Photos/poster by Allen Bukoff.

"A red circle with nothing in it"
Allen Bukoff's execution of Allan Revich's Red Circle Score. Featuring Allan Revich.
"Later" by Josh Ronsen

Video by Reid Wood
Listening Party : new Fluxus Sound Work
6018 North
Sunday, February 22nd, 12 - 5pm
If you know of any other video or audio files, photos, or accounts of this 2015 festival that should be included here, please let us know! Email us here.